Miguel "Mike" Gaspar, drummer for Portugal's MOONSPELL, is featured in a new interview with Kelley Simms at Hails & Horns. An excerpt is available below: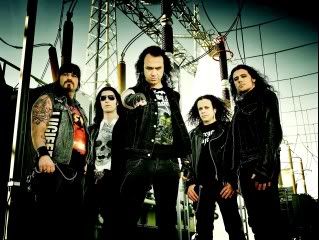 Q: As the original drummer, what did MOONSPELL set out to create from the beginning?
Gaspar: "When we started the band, (we never) thought that this band would ever reach this kind of success or ability. You have to understand, coming up in Portugal in the '90s, it was very difficult to even find instruments, to have a proper rehearsal space or find record companies. Especially the style of music that we were into, which was black metal, death metal, atmospheric metal. It was all very taboo in this country. People weren't even listening to hard rock acts. It was not that normal or that popular, or a mainstream thing. When this (metal) started arriving in Portugal, it was a smaller underground group of people who were into heavy bands like METALLICA, SLAYER, SEPULTURA and these other bands who I grew up with. That's what really made us start a band.
Everything after that just took its course and everything happened naturally. We just kept working as much as we could to reach these bands. When I think back in particular and what I had to go through with my parents and society's acceptance and that crazy stuff you go through but you hate. I guess we should be pretty proud of it because we've had a pretty solid career. It's a pretty good thing especially for Portugal. There aren't many Portuguese metal bands and our music is not like the kind of thing that parents would tell you to pursue for a career. There's not a lot of opportunity here. But we just showed people that you can make a good living."
Q: The Portuguese Postal Service released a stamp with the cover of Wolfheart on it. I guess you're not famous in your native land until you have a stamp!
Gaspar: "It's pretty amazing that we have our own stamp. You'd never think a band like us would have our own stamp! This is part of the Portuguese hard rock collection. with all the popular Portuguese bands. We're the youngest band picked. They chose our first album as a landmark for Portuguese metal culture to represent what we've done internationally. This stamp is worth 1 Euro which is worth more internationally than others. Which is really cool for us because our music reaches other markets. The original cover that came out in '95, it's the one that everyone remembers. So it's very nice. Sometimes I'll send them to fans that will write to me."
Go to this location for the complete interview.
As previously reported, Moonspell recently their new video for the Omega White track 'White Skies'. Check it out below:
Alpha Noir/Omega White has achieved more chart positions in Europe. The list is now as follows:
Germany: #37
Finland: #37
Austria: #44
Switzerland: #48
The Netherlands: #83
Norway: #87
Belgium: #87
Portugal: FNAC Top Seller #2

Alpha Noir is available in a digibook with slipcase, limited double vinyl and strictly limited edition deluxe box set, containing the limited-edition double album mediabook, including two album covers, and Alpha Noir's counterpart, Omega White, and an exclusive Moonspell logo pendant.
Check out BraveWords.com scribe Carl Begai's new Moonspell feature at this location.
Source: Bravewords.com