EVILE performed to a packed venue on Tuesday night at the band's free charity show in London, UK, raising £1,040 for charity in the process. Along with label mates SAVAGE MESSIAH, EVILE rocked out the Old Blue Last with a selection of their hits alongside tracks from their latest album, Five Serpent's Teeth, with donations collected for the British Lung Foundation in memory of the band's late bassist, Mike Alexander.
Lead guitarist
Ol Drake comments: "Now I've fully recovered from the show, I can write something more than 'argh thanks!'. We turned up at the Old Blue Last fully expecting there to be a small turnout with just two weeks notice of the show, but it ended up packed from front to back with metalheads. What more could we ask for? The point of this show was to celebrate the release of our single and video for 'In Memoriam', a track initially created as a tribute to our late, and great bassist, Mike Alexander. We were taking donations on the night for the British Lung Foundation, in memory of Mike, and we managed to raise £1,040 for the cause. Thank you SO much to everyone who came down, thrashed with us and donated whatever they could give. Thank you!!"
EVILE have been moved to the main stage for this year's Bloodstock Open Air 2012, which is scheduled for August 10th-12th at Catton Hall in Walton On Trent, Derbyshire, England. The band had previously been set to play on the Sophie Lancaster stage on Sunday, August 12th, but have now been upgraded to the Ronnie James Dio (main) stage, where they will play alongside the likes of ALICE COOPER, DIMMU BORGIR, ANVIL, NILE and more.
Guitarist Ol Drake comments: "We're pleased to announce we'll be appearing on the Ronnie James Dio stage at Bloodstock on Sunday – Bloodstock has always been like a home to us and we can't wait to return and hit you with a few surprises in the set!"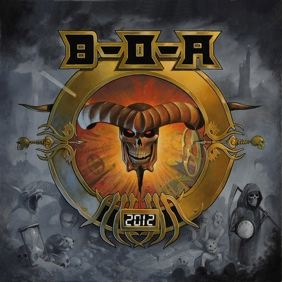 Acts confirmed for the festival currently include:
Ronnie James Dio Stage: ANVIL, BEHEMOTH, BENEDICTION, THE BLACK DAHLIA MURDER, CHTHONIC, ALICE COOPER, CORROSION OF CONFORMITY, CROWBAR, DEATH VALLEY KNIGHTS, DEICIDE, DIMMU BORGIR, DIO DISCIPLES, FREEDOM CALL, GRAND MAGUS, HATEBREED, I AM I, ICED EARTH, KOBRA & THE LOTUS, LOCK UP, MACHINE HEAD, MAYHEM, MOONSORROW, NILE, PARADISE LOST, SANCTUARY, SEPULTURA, TESTAMENT, WATAIN.
Sophie Lancaster Stage: ALCEST, ANAAL NATHRAKH, ANCIENT ASCENDANT, BATTALION, BLOODSHOT DAWN, COMMANDER IN CHIEF, CRIMES OF PASSION, DEMONIC RESSURECTION, DERISION, DRIPBACK, EASTERN FRONT, EVILE, FLAYED DISCIPLE, FURYON, GONOREAS, HEADCHARGER, INFERNAL TENEBRA, MARIONETTE, NOCTIFERIA, ORANGE GOBLIN, PRIMITAI, PYTHIA, RE-ARMED, RISING DREAM, SATURNIAN, SAVAGE MESSIAH, SWEET SAVAGE, VIKING SKULL, WINTERFYLLETH, WITCHSORROW.
New Blood Stage: DOOMED, DREAMCATCHER, FALLEN FATE, GONE TIL WINTER, HURON, INFERNAL CREATION, REFLECTIONS IN EXILE and REIGN OF FURY.
Further details at Bloodstock.uk.com.


Source:  Bravewords.com